It is funny how it hit me. While lounging on my favorite pink chair in the living room, I happened to look up at my two blue roses that I had dried over a year ago when it dawned on me. Why not use the roses as a prop?
So long I had been wanting to have a set of props to create a theme for my jewelry in the background to set a feel and mood to the images and jewelry I was displaying. I had been struggling with what to purchase to create that mood. How do I hang them?
With my new roommate I can now show my jewelry on models, but with rediscovering the items around my home that are potential props, I now can finally create much better pictures.
Here are some examples!!
Beautiful deep blues in this pair of earrings works really well with the blue and white props. These earrings can be found here at:
Dainty Sapphire Blue Czech Earrings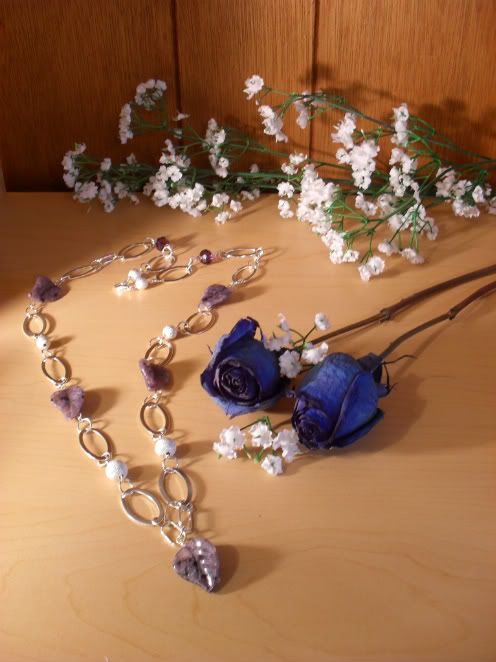 This here also works very well with the silver and purple in this necklace. In fact this is my favorite picture of all the pictures I took of this necklace that I have recently made.You can find the necklace here at:
Elegant Jasper Necklace on Etsy
However I have found that the color of the wooden table , though a lovely color in these pictures, doesn't tend to work very well with pinks. I have rediscovered my Printer's grey surface so I believe from here onward I will have to take my Jewelry Photo-ops on the Printer and hope it doesn't turn out tacky.
See for yourself!
These are very cute earrings with a pale pink 8mm faceted glass bead at the end, however the delicate color is absorbed by the wooden table. You can barely see the pink. I've found pink not to be a good match with this table for that reason. If you like the earrings though, they can be found here:
Light Pink Swarovski Earrings
I hope you like my new look, I certainly do, but it will need some tweaking for jewelry of other colors such as reds and greens, and of course pink!